Visual talks / events with Max Dashu
Breasts! ceremonial pots, pectorals, doors, walls, fountains
This rare series of images includes ceremonial breastpots from China, Tennessee, Mexico, Colombia, Nigeria, and the Philippines; of the Caddo, Mangbetu, Yoruba. We look at the symbolism of women's breasts as lifegivers depicted on the walls of houses, or in the very shape of the houses, on doors and pillars and longhouse ladders. They appear as regenerative figures on funerary urns or ossuaries, and even on clay furnaces for iron-smelting. Artists modeled breasts on ancient figurines and statues, mortars, shields, and headrests; on wooden Mother Drums, votive plaques, beaten gold pectorals and plaques, megalithic monuments, temple sculptures, and stone fountains. And we look at the breast-cupping gesture of the Life-Giver in ancient figurines and statues.
An amazing and fun exploration of an overlooked female iconography.
Two showings: Thurs 18 Apri, 6:30 pm PDT and Sun 21 April, noon PDT (both San Francisco time)

Select sliding scale rate from dropdown menu, then click Add to Cart.
---
Previous events and webcasts
---
Visual talks / events with Max Dashu
Rebel Shamans: Women Confront Empire

Priestesses, diviners and medicine women stand out as leaders of aboriginal liberation movements against conquest, empire, and cultural colonization. Spiritual spheres of power have been a crucial staging area for women's political leadership and for challenging systems of domination on many levels, including the battleground of culture. This visual presentation looks at how indigenous women draw on their cultural traditions to resist colonization --and how, by virtue of who they are and where they stand in the social order, their personal access to direct, transformative power makes the spiritual political.
Veleda of the Bructerii (Netherlands), Dahia al-Kahina (Tunisia), the Kumari of Taleju (Nepal), Jeanne d'Arc (France), Tang Saier (China), Juana Icha (Peru), Kimba Vita (Congo), Maria Candelaria (Chiapas), Queen Nanny of the Maroons (Jamaica), Cécile Fatiman (Haiti), Antonia Luzia (Brazil), Toypurina (Tongva Nation, California), the Prophetess of Chupu (Chumash Nation), Wanankhucha (Somalia), Lozen (Apache Nation), Teresa de Cabora (Mayo, Sonora), Nehanda Nyakasikana (Zimbabwe), Muhumusa (Uganda), Nomtetha Nkwenkwe (!Xhosa, South Africa), Alinesitoué Diatta (Senegal). And more.em>
Two showings: Sun 24 March, noon PDT and Thurs 4 April, 6:30 PDT (both San Francisco time)
Select sliding scale rate from dropdown menu, then click Add to Cart.
---
The Faery Faith in Europe
Taking the long view, we look at antecedents of the faery faith, in the ancestral women of megalithic France, old Gaulish and British goddesses, and stones of the Matres and Matronae (and the "hooded spirits" as well). The emblem of mirror and comb in faery stories and on Pictish stones. Fairy mounds: the siddhe, bergfolk, domus de janas, and elf-howes. The Tuatha Dé Danann in Ireland, with figures like Tailtiu and Tlachtga, and Y Mamau in Wales. Morgan le Fay, the Lady of the Lake, Dahut of Caer Ys, and The Nine Maidens. Mélusine, Sapiente Sibyllia, Habetrot, and Tante Arie. Water spirits, selkies, the wivern/vouivre and groac'h. Faery godmothers and "the good women who go by night."
Two showings of this 90 minute visual livecast, with extratime for questions and discussion:

Thurs 14 Feb, 6:30 PST and Sun 17 Feb. at noon (San Francisco time)
Select sliding scale rate from dropdown menu, then click Add to Cart.
---
Healers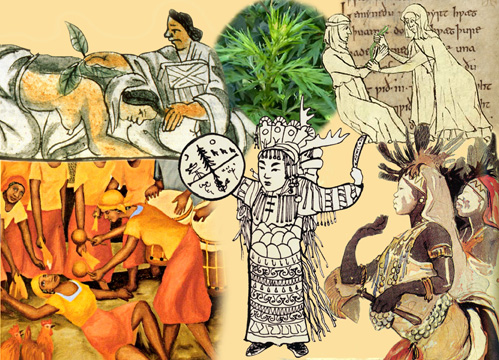 An international survey of women healers and herbalists, from the Philippines, Korea, South Africa, Hungary, Wisconsin, the Aztecs, Kirghiz, Pomo, Karok and Yurok, Irish and Welsh, Thai, Ainu, Tibetan, Black Carib and Dayak healers. This show also highlights better-documented healers such as Maria Sabina (Mazatec, Mexico); Essie Parrish (Kashaya Pomo, California); Katjambia (Himba, Namibia) and Teresa Urrea, la Santa de Cabora in Sonora (Mexico).
Two showings: Sun 13 Jan. at noon; and Thurs 17 Jan at 6:30 pm (San Francisco time)

Select sliding scale rate from dropdown menu, then click Add to Cart.
---
African Banganga, Izangoma and Oracular Women
San rainmakers and trance healers; the izangoma of South Africa, shamanic women of Zimbabwe, Congo, Kenya, Namibia, Togo, Dahomey, Nigeria; the andina-s of the matrilineal Kunama in Eritrea; zar doctors of Ethiopia, Egypt, Sudan; the bori magadjiyar of Hausa; and diasporic traditions of the Cuban priestesses of lucumí, Haitian mambos and the maes de santo of Brazil.
Two showings: Wed 12 Dec. at 6:30 pm and Sun 16 Dec at noon (both San Francisco time)
Select sliding scale rate from dropdown menu, then click Add to Cart.
---
European Events Nov 2018
Fri 16 Nov 7 pm Witch Hunts IS SOLD OUT
hosted by the Feminist Library, London
---
Nov 17-20, 10am to 6pm
Reclaiming Suppresed 'Her'stories:
Exploring Irish indigenous wisdom in a global context
We'll excavate and discuss indigenous spiritual symbols, ceremonies and stories of Old Ireland. We'll look at Brigit's cross, her cloak, crios/birthing belt, and weaving tools; worldwide cultural memories of The Cosmic Weaver, a creatrix of the web of life, and the metaphors of spinning, weaving, textiles and texts. We'll also delve into the Cailleach of the Cairns; womb symbolism of the megalithic sanctuaries, with their stone basins and vulva petroglyphs, and their spiral iconography. We'll see rich images and discuss meanings, symbols, ceremonies and connections from Ireland and around the world.
With Dr. Mary Condren of Womanspirit Ireland and Max Dashu of the Suppressed Histories Archives.
Sophia Wisdom Conference Centre, 25 Cork St, Dublin 8
Early Bird €45 (until 12 Nov). Full fee: €55.
Concessions: Early Bird €20 (until 12 Nov). Full fee: €25.
Enrollment and info: womanspiritireland@gmail.com and www.womanspiritireland.wordpress.com
---
Wed 21 Nov, 7 pm
Kulteren der Verfolgung (Persecutory Cultures)
Ein Bildervortrag mit Max Dashu (Englisch mit Uebersetzung)
Das RadFem Kollektiv Berlin lädt ein zu einer visuellen Geschichtsstunde durch verschiedene Kulturen, in denen Frauen, Queers, Hexen, HäretikerInnen, "Ungläubige", Angehörige indigener Völker, und andere verfolgt wurden und werden. Dashu deckt Ahnlichkeiten in der Art und den Mitteln auf, mit denen Angehörige unterdrückter Gruppen als "Andere" konstruiert und unten gehalten werden.
Mittwoch, 21.11.2018 Uhre 19.00-21.00
Frauenzentrum EWA e.V. Prenzlauer Allee 6, 10405 Berlin
Eintritt: regulär: 10€, ermäßigt: 7€; Unterstützerinnenpreis: 13€ Kontakt: radfemkollektivberlin@gmail.com
---
Freitag, 23 November, 18.30
Der Spinnrocken: Göttinnen, Schicksalsfrauen, und Frauenmacht
(The Distaff: Goddesses, Fates, and Women's Power)
Ein Bildervortrag mit Max Dashu (Englisch mit Ubersetzung)
Der Spinnrocken ist seit Jahrtausenden ein Symbol weiblicher Macht. Europäische Kulturen verbinden ihn mit Göttinnen, Nornen, Feen, Heiligen und Hexen. Die skandinavische Archäologie offenbart immer wieder Völur (Seherinnen), die mit Schamanenstäben beerdigt wurden, die wie Spinnrocken aussehen. Sie sind mit der Mythologie der Fäden spinnenden Schicksalsgöttinnen oder Schicksalsfrauen verbunden und mit Zeremonien von Frauen in ganz Europa. Auch Hexen wurden mit dem Spinnrocken als ein Symbol weiblicher Hoheit in Verbindung gebracht, während die Hexenverfolgungen ihre Macht dämonisierten. Dennoch überlebte die "Alte Spinnerin" in der "Mutter Gans", also der "Ma Mère l'Oye" oder "My Mother Goose" der französischen Märchen sowie im britischen Feiertag für Frauen.
KOFRA e.V. Baaderstraße 30 80469 München (Nur Frauen)
Eintritt: regulär: 10€, ermäßigt: 7€; Unterstützerinnenpreis: 13€. Telefon: 089 20 10 450
---
Mon 26 Nov, 18.30 Uhr
Sakraler Tanz und Frauenrituale – Ein Bildervortrag mit Max Dashu
Sacred Dance and Women's Ceremony, hosted by MatriArchiv
Geniessen Sie die Visualisierung einer reichen Frauentanztradition. Uralte Wandmalereien, Felszeichnungen, Skulpturen und bemalte Keramik bis hin zu modernen Kreistänzen auf der ganzen Welt zeugen davon. Gezeigt werden Ritualtänze auf kretischen Siegeln und auf zypriotischer Keramik, Bronzen aus Kambodscha und China, Tempelreliefs aus Indien und Vietnam, Malereien von Mänaden und Amazonen, die den Kazatzka/Hopak tanzen. Darstellungen von chinesischen Ärmeltänzerinnen und archaische griechische Tänze mit Wedeln stehen neben Wandbildern aus den Kiva-Ritualräumen der Puebloindianer. Chorowod-Reigentänze tanzt man in Russland, Maistänze und Frauen-Initiationen in Nordamerika. Indigene Tänze aus Indien, Brasilien, Äthiopien, den Pazifischen Inseln, Sibirien, Tschad und Indonesien werden gezeigt, ebenso die Zar-Tänze aus Nordostafrika und die Ring-Shouts in den USA.
Stadt-Bibliotek of St Gallen. Raum für Literatur in der Hauptpost
Eingang St.Leonhardstrasse 40, 3. Stock, St.Gallen, Switzerland
---
Thurs 28 Nov, 10:30 am
Xi Wangmu, The Cosmic Weaver and Shamanic Goddess

ASA Traditional Chinese Medicine Congress, Solothurn, Switzerland. Conference information and registration
here
---
---
Witch Hunts visual livecast
Thurs 1 Nov, 6:30 PDT and Sun 4 Nov, noon PDT (90 minutes)
(both San Francisco time, UTC-7; note that US clocks turn back 1 hour at 2 am just before)
The witch-hunting Terror was the crucible of modern "Western Civilization." It had a profound impact on women's freedom—speech, professions, bodies, sexuality, and mobility in public spaces. Yet witch hunts have become a metaphor without their own significance ever having been understood or digested. Women, the old, poor, disabled, queer, and ethnic minorities were targeted as "devil-worshippers." (And some victims really were folk healers, midwives, and diviners—or bold and indominable women.) We'll look at how the witch craze was escalated through torture-trials; who was persecuted; and the role of rulers, churchmen, doctors and professors in propagating misogynist persecution. How did witches' bridles, sexualized torture, and racist diabolist ideology influence European culture, and get exported as tools of colonization? What are the legacies of this repression today? It's crucial for us to understand this prehistory of modern patriarchy and empire, which still influences the dominant culture today.
Register for this livecast by choosing sliding scale payment from dropdown, then click Add to Cart:
---
Medicine Women of the Americas
Sun, Oct 21, 12 noon PDT and Thurs Oct 25, 6:30 pm PDT
(both San Francisco time, UTC-7)
From the far north to the far south, through Canada and Washington and California, the Great Plains and Midwest, Great Lakes and into Mexico and the Caribbean, and on to Colombia, Peru and Chile. We pay tribute to eminent women such as Piwoya Essie Parrish, Yomta of the Kashaya and last of the Bole Maru Dreamers; Martha Bad Warrior, keeper of the White Buffalo Calf Woman pipe; Teresa Urrea, la Santa de Cabora, and the Mazatec curandera María Sabina; and the machis of the Mapuche people.
---
49 Years: Suppressed Histories Archives
Saturday, October 27, 7 pm

Come help us celebrate 49 years of global women's history with the Suppressed Histories Archives! See an overview of the visual shows on a wide range of topics, and learn about the Archives itself. We'll have musicians: Evelie Posch, Matu Feliciano and Mancha de Plátano, and speakers. Including you, if you'd like to share what the SHA has meant to you.

October 2018 makes seven times seven years of this research and the foundation of archiving cultural records that shine a light on women, in all times and places; on matricultural and cooperative societies; on how systems of domination work and spread; and on cultural heritages and spiritual philosophies. Ave.

Berkeley Fellowship of Unitarian Universalists 1924 Cedar St, Berkeley, California 94709
Donation at the door benefits the Archives and the Berkeley Unitarian Universalist congregation.
Everyone welcome, no one turned away for lack of funds.
Books, posters, prints and dvds will be there!
---
Female Shamans in Asia
Sun, Sept 16, 12 noon PDT and Thurs Sept 20, 6:30 pm PDT
(both San Francisco time, UTC-7)
Siberia shamans across northern Asia, with their drums, headdresses and robes, and the udagan of Mongolia; Korean mudang; Ainu and Okinawan kaminchu; babaylan and catalonan of the Philippines; hala and balian and dukun of Indonesia and Malaysia. Female shamans in Nepal, India, Vietnam, Burma, Thailand and China.
Persecutory Culture
Sun, Aug 19, 12 noon PDT and Wed Aug 22, 6:30 pm PDT
(both San Francisco time)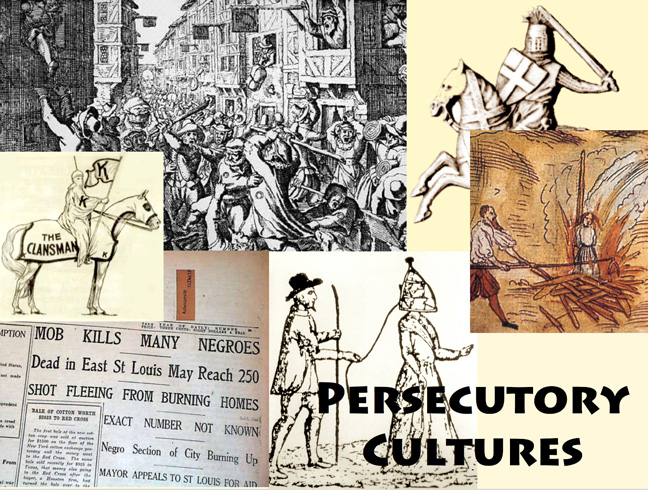 Stonings, witch hunts, pogroms, lynchings, heretic hunts, crusades / religious wars. The blood libel and other forms of scapegoating, torture, exorcism, book burnings. Marking the "unbeliever": Jewish badges and hats, dhimmi garments. Public humiliation of disobedient women and homosexuals: witches' bridles, "shame-masks," headshaving, stocks, ducking, sexual punishments. Racialized diabolism as colonizing ideology, massacres, theft and destruction of sacred bundles and masks, stolen generations and "Indian boarding schools"; misogynist and racist epithets and images. Each of these areas: persecution of women, queers, witches, heretics, "infidels," Indigenous cultures, and the descendants of captives, is an entire study. Here we look at similarities in the Othering and the methods of repression used to keep oppressed groups down.
$15, more if you can, less if you can't (choose amount from dropdown menu before payment).
The Cosmic Weaver
Wed June 13, 6:30 pm PDT and Sun Jul 15, 12 noon PDT
(both San Francisco time)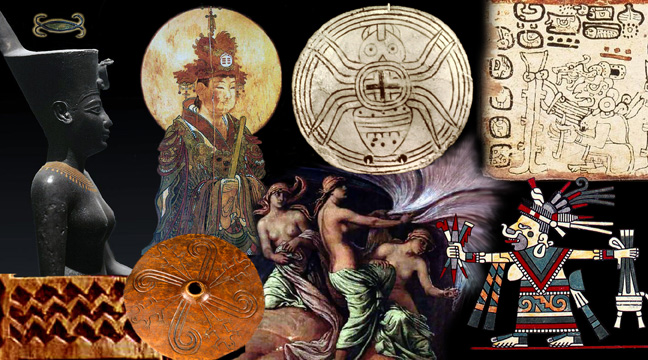 Creator goddesses and spinners of fate around the world: Neith, "Mother of the Gods" in Egypt, and the Seventh Nummo of the Dogon. Xi Wangmu, the cosmic pivot of the Big Dipper, and the Weaver Maiden in China. The Moirae of Greece and the Roman Parcae. Grandmother Spider in the Mississippian and Pueblo cultures, as well as in Navajo tradition. Maya Chak Chel and Aztec Tocí / Tlazolteotl, and Takutsi Nakawé of the Huichol. Weaver in the Moon in Iroquois and other North American sacred story. The Wyrd Sisters in Britain, Scandinavian Norns, Fatas and Sudice and Laimas. And the Andaman Islands, Iraq, Bali, Aotearoa, and Peru.
$15, more if you can, less if you can't (choose amount from dropdown menu before payment).
Sacred Signs
Sun June 10, 12 noon PDT and Wed June 13, 6:30 pm PDT
(both San Francisco time, =GMT -7)
The Ankh and Tyet of Isis (and other sacred knots), the Ollín of the Goddess of Teotihuacan, Nyame Dua (Altar of Divine), Four Moments of the Sun (Congo), Tai Ji, and many more. Including labyrinths, stars, and spirals, spirals, spirals. I'm still working on this one, and it's going to be fascinating.


---
In Portland: Matricultures Friday May 18, 7-9:30 pm
Deasophy: Goddess Wisdom Saturday May 19, daylong
Friday May 18th: Matricultures
visual talk by Max Dashu - 7pm to 9:30
Egalitarian matrilineal / matrilocal cultures show a way of being human outside the paradigm of domination. Not a mirror image of patriarchy, but a totally different way of life, in which the life support matrix is the highest good, with women at the social center. Societies like these falsify the doctrine that domination is universal and unavoidable. History sibyl Max Dashu draws on her 48 years of research on mother-right in this richly expanded visual talk, at Multnomah Friends Meeting House 4312 SE Stark St, Portland, OR 97215
Purchase Online Tickets
- $15-$30 sliding scale. Tickets also available at the door. Wheelchair accessible; between bus lines 15 and 20.
Share this event
on Facebook.
Saturday May 19th Deasophy: Goddess Wisdom
visual talks, discussion, art and music salon, 11am to 5:30pm
A daylong visual journey into the female Divine in her many aspects. Two visual talks, with audience choice; and with talking circle, discussion, art and music. A copy of the Deasophy Coloring Book is included in the registration of $50-$100 sliding scale. Purchase Online Tickets
here
. Discount for purchasing tickets for both events. Pre-registration recommended. Workshop tickets may be available at the door. Community Room of the Kennedy School, accessible venue near bus lines 33 and 70.
Share this event
on Facebook.
Coming to Manhattan! Two events
Friday, April 20 7 pm, Sacred Dance, Women's Dance
Drink in a global view of women's communal dance, from ancient paintings, rock art, sculpture and murals, to modern dancers. Then we dance the sacred Round ourselves. $15-25 sliding scale. Tickets
here
.
WoW Café Theatre
in Manhattan 59-61 E 4th St (4Fl) New York, NY 10013
Sat April 21 dayshop 11-6: Woman Shaman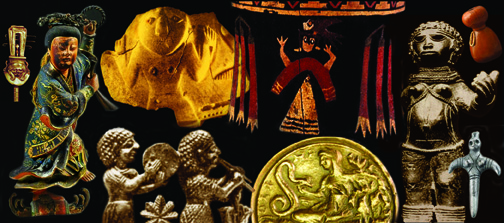 We pass through visual portals of invocation, ceremony, transformance, and healing, as shown in ancient art and living traditions around the world. Speak in circle on healing the female, releasing cultural spells of domination, on our spiritual approaches and experiences. And dance the sacred Round.
$60-150 sliding scale, benefiting Suppressed Histories Archives Fund. Pre-registration recommended. Tickets
here
.
At WoW Café Theatre
in Manhattan, 59-61 E 4th St (4Fl) New York, NY 10013
Info.
---
Coming to Philly area! for the first time
Fri, April 27 7:30 – 10 pm Witches and Pagans: Down to the Roots
The spiritual heritages of pagan Europe were once carried by wisewomen, healers, seers, enchantresses, and nightfarers. In this visual talk, Max Dashu examines folk names for the witch and the female sacraments of spinning, weaving, herbcraft, divination, incantation, and sacred dance. Remembering the Fates, fatas, faeries, and the "women who go by night with the Goddess."
Providence Friends Meeting, 105 North Providence Road Media, PA 19063
Advance tickets can be purchased
here
.
Sun, Apr. 29 1 to 4 pm Canaanite and Hebrew Goddesses
A visual journey through ancient female icons (that go back over 10,000 years in this region); Canaanite temples, clay shrines, altars, and "snake tubes"; Ashtart and her lions; inscriptions to Asherah that overturned old archaeological doctrines; ivories, cherubim, pillar goddesses, and prophetic women such as Miriam, Dvorah, and the Baalat Ob ("witch of Ein Dor").
Hosted by Temple P'nai Or, Common Room at Summit Presbyterian Church,
6757 Greene St (at Westview in the West Mt. Airy district) Philadelphia PA 19119
$10 - $20 sliding scale; no one turned away for lack of funds
---
Female Rebels and Mavericks
Sun Mar 25, noon PDT; and Wed Mar 28, 6:30 PDT
(both San Francisco time)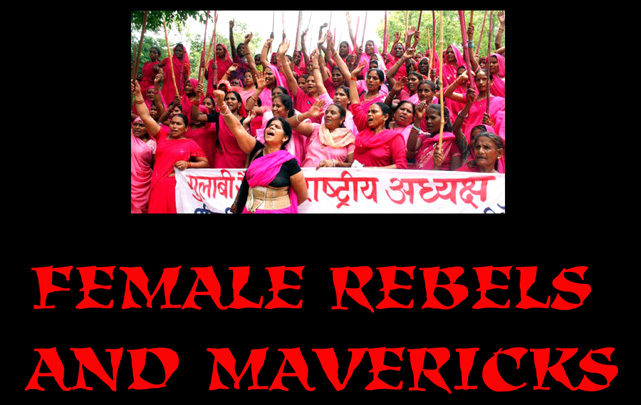 Women who boldly stepped into all-male preserves (medicine, piracy, and war, with a taste of Amazons); heretics, freethinkers, subversives, martial artists; cultures of resistance, drummers, revolutionaries and activists around the world.
---
Matricultures
New livecast added: Sat. Mar. 31, noon (San Francisco time)
How things could be different?—because they have been! Egalitarian matrilineal / matrilocal cultures show a way to be human outside the paradigm of domination. This is not a mirror image of patriarchy, but a completely differ- ent way of living, its highest good the life support matrix. Mother-right societies disprove the doctrine which claims domination to be universal and unavoidable. History sibyl Max Dashu presents a new version of her visual talk, drawing on her 48 years of research on this subject.
---
Women's Dance
A very international view of women's communal dance, from ancient ceramic paintings,
rock art, sculpture and murals, to modern photographs. Subscribe below.
---

Lesbian Heritages

another livecast to be announced (San Francisco time, live)

An international view of woman-loving women, from intriguing archaeological finds of paired and embracing women, up to recent history. We look at Khotylevo, Çatal Hüyük, Mycenae, Nayarit, Etruria, Nok, and the Begram ivories. Lesbian love in Hellenistic art, Thai murals, Indian temple carvings, and Asian erotic books. Names for lesbians: mati, zami, hwame, sakhiyani. And for butches: Bofe (Brazil). Lesbians as female rebels: Amazons. Okuni. Juana Asbaje. Louise Michel. Calamity Jane. Women who passed as men in order to practice medicine and roam the world. Punishing the lesbian: in the Bible, Zend Avesta, and Laws of Manu. Lesbian themes in demonological porn. Lesbian musicians (Sotiria Bellou, Chavela Vargas, Ethyl Waters), artists (Edmonia Lewis, Romaine Brooks, Yan María Castro), writers (Emily Dickinson), and actors (Garbo!) Lesbian clubs, the scenes in Paris and Berlin. Lesbian feminists. Rebeldías Lesbicas in Peru; Arab, South African, Australian lesbians.

All webcasts are free to course subscribers. If you are not subscribed, you can attend single webcasts by registering at the link below. Suggested contribution $15., sliding scale on both sides of that. (More than one webcast may be listed, so be mindful to choose the one you want, as the links are specific.)

Register at link below:

---

Last year:

Jul 28-30 Witches and Pagans: Down to the Roots, and another show TBA, at the Green Spirit Festival, Circle Sanctuary Nature Preserve near Barneveld, Wisconsin. https://www.circlesanctuary.org/index.php/events/green-spirit-2017

Wed Aug 2, 7 pm Canaanite and Hebrew Goddesses
Beacon Heights Church of the Brethren
2810 Beacon Street (at Kenwood), Fort Wayne, IN 46805
$15. Register at (260)-482-7402 OR kuanyin011@ frontier.com
Sponsored by Sophia Sanctuary, Ft. Wayne http://www.sophiasportico.org/

Aug 25-30 I'm presenting two new visual talks,The Wu: female shamans in China, and Xi Wangmu, at Immortal Sisters: Taoist Women's Conference, a historic meeting of female Taoists at the Menla Center in Phoenicia, NY. See http://immortalsistersconference.com/ Contact: immortalsistersofthetao@gmail.com

Sept 7-10 Witches and Pagans: Down to the Roots and (new show) The Cosmic Weaver, at Goddess Spirit Rising International Goddess Conference, Simi Valley CA. http://goddessspiritrising.com/

Fri Sept 22, 7-9 pm Woman Shaman: The Ancients
A transformative visual journey: female invokers, chanters, ecstatic dancers, shapeshifters, spirit-riders, oracles, diviners and healers. View a rare array of medicine women, drummers, and dreamers, of staff and serpents, and water your dreamscape with spiritual riches.
Nalanda Events Center, Naropa University. 6287 Arapahoe Ave, Boulder CO 80301
Free to Naropa students (with ID). Advance tickets ($15) here, or $15-$25 sliding scale fee at the door. (303) 245-4785 Sponsored by Naropa University

Sun Sept 24, 2 pm Witches and Pagans: Down to the Roots. Mercury Cafe, 2199 California St, Denver, Colorado 80205. $15. Please note afternoon time of this event!

Thurs Oct 26-Sun 29, Witches and Pagans: Down to the Roots, and Female Icons, Ancestral Mothers, at the Daughters of Diana Gathering, San Bernardino mountains. http://www.daughtersofdianagathering.org/

Oct. 29-Nov. 5, Building Pathways not Walls, in Xicotepec De Juárez, Puebla, and Teotihuacan, Mexico. A conference sponsored by The Kolo: Women's Cross-Cultural Collaboration, Natural Learning Foundation, Mago Academy, and Anthropological Research in cooperation with Mexican organizations and communities. There will be dance! Early Bird Registration by 7/31/17 is only $250.00 or pay $325.00 afterwards. Includes shared dormitory lodging, meals and conference. https://pathwaysnotwalls.org/

Thurs Nov 16, 7 pm. The Cosmic Weaver, at the San Francisco Public Library. Main Library, Civic Center, 100 Larkin. Free admission, sponsored by the Library. (415) 557-4400.

Nov 27-Dec 4. Shifting Loyalties a residential gathering for women in the heart of Pendle, Lancashire, established by idle women in collaboration with Silvia Federici. It is a space for women to hold critical conversations, build connections and friendships, excavate our histories and forge a different future. What can we do to address the urgency of global violence against women, from domestic violence to wars, media representation to pay gaps, reproductive rights to the silencing of creative and political voice? Shifting Loyalties is an open space for self-organising with some invited guest speakers. All women are invited to bring something to share, to discuss, to do or make together, a story of your experience or the work you are involved in. Coldwell Activity Centre, Back Lane, Burnley, BB10 3RD http://www.shiftingloyalties.org/

Watch this space for other events in Britain in Nov/Dec, TBA.